Darren Hanlon Bio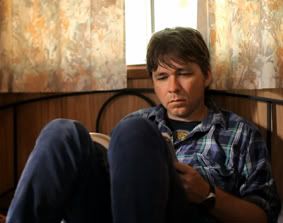 A veteran of the Australian music scene, having completed stints as a supporting guitarist and keyboard player for the Lucksmiths, the Simpletons, the Deerhunters and Mick Thomas (Weddings, Parties, Anything), singer/songwriter Darren Hanlon officially stepped out on his own in 1999. A charming and clever songwriter, drawing comparisons to Evan Dando and Billy Bragg, Hanlon wasted little time in establishing himself as a compelling storyteller and prolific songwriter with his observational wit and memorable pop hooks.
Releasing his Early Days EP in 2000, he quickly gained recognition within the Australian indie music scene (his music regularly featured on Triple J) and begun touring Europe and the United States shortly thereafter. In 2002, his full-length debut, Hello Stranger, a wonderful mix of folk-rock and quirky songwriting was released to comparably favorable reviews. Little Chills arrived in 2004, followed by Fingertips and Mountaintops (2006) and a collection of B-sides and rarities called Pointing Ray Guns At Pagans (2009). In 2010, Darren celebrated 10 years as a solo musician with the release of I Will Love You At All, which was met with critical acclaim and featured the hit single All These Things.
Known for his engagement with his audiences, through his down-to-earth storytelling at his live shows, Darren has toured with Billy Bragg, the Magnetic Fields, Violent Femmes and continues to tour across the globe.
For more info visit www.darrenhanlon.com

Discography @ Flippin Yeah Industries
FYI001(December 2008) – Electric Skeleton/Butterfly Bones (7″)
FYI002 (March 2009) – Pointing Ray Guns at Pagans (Album)
FYI003 (December 2009) – I Wish That I Was Beautiful For You (Video Clip & Documentary) (DVD)
FYI004 (July 2010) – I Will Love You At All (Album)
FYI005 (May 2010) – All These Things by Darren Hanlon (Digital Single)
FYI006 (February 2011) – Butterfly Bones (Digital EP).